This is Thanksgiving season and yet devastation is all around me.
On Wednesday October 10, 2018, Hurricane Michael tore through the Panhandle of Florida leaving devastation and heartache behind. It was one of the strongest storms to make landfall in the United States. With winds howling at 155 mph, it was 2 miles short of a Category 5, making it the 3rd most powerful hurricane in US history. Houses were demolished, asphalt highways torn to shreds, trees uprooted, household items strewn for miles. Tragically, many people lost their lives.
Survivors were left without jobs because businesses were destroyed, grocery stores and restaurants left in piles of rubble. People were left with no power, no water, no internet or cell phone access. Some were without the ability to communicate with the outside world. People were trapped in their homes waiting for rescue with no means to call for help.
My husband, Greg, and I rode out the hurricane in our little town of Wewahitchka, FL which was in the direct path of the storm. We watched Michael hurl huge trees through the air as if they were toothpicks, lift some trees up by the roots and place them in different locations, and throw some trees on the roof. The power of the wind was fierce. It cleared a path leaving nothing but heartache behind.
It has been more than a month now since that horrendous storm swept life changing destruction through the Panhandle of Florida. It still looks like a war zone. People are weary, tired, and finding new reasons to shake their heads in disbelief every day. The aftermath of the storm is as cruel as the storm itself. Three linemen were killed by a hit and run driver as they worked to restore power. A high school coach was killed by a tree striking him as he helped to clear debris. A father of 3 was killed as he was clearing trees from his yard. People are left with feelings of grief, despair, numbness, lack of clarity, insomnia and difficulty concentrating.
In the midst of this suffering comes the season of Thanksgiving. Amidst the death, destruction, and confusion, a time of celebration is at hand. While some people in Florida are living in tents because they have no home, others around the country are preparing a huge feast for family and friends around a big table laden with plenty. How is it humanly possible for the people of the Panhandle to look at the chaos and loss and prepare their hearts to give thanks?
Because I lived through it and now live in the midst of the devastation, I can personally tell you why we can and will give thanks to God.
Because God is there. Right there in the middle of it all. I saw Him at work. He was there through Crystal, an X-ray technician and Teresa, a labor and delivery nurse who took off from work and came to Florida from Pennsylvania with a van load of 6 other women simply to help. Their week consisted of picking up trash from stranger's yards, tearing out insulation from houses and pulling mold covered clothes and furniture to the curb.
I asked Crystal, "Why are you doing this?"
Her reply, "I want to help hurting people. I want to serve them."
I saw God at work through Ray and Rhonda who committed 7 weeks of their time, sleeping in a church Sunday School room on an air mattress so they could ease the burden of hurricane victims.
I saw God at work through churches outside the Panhandle who sent supplies — water, diapers, food, cleaning supplies, gloves, etc. to people they did not know but knew were in need.
I saw God through Susan and Dave who came to Lake Alice Park in our little town and set up a grill to cook hotdogs and hamburgers so people could have a hot meal. They set up a sign that read "Free Hot Meal."
I saw God through Doug, who drove his RV from California to wield a chainsaw to help people clear debris.
I saw God through our son, Josh, who took leave from his military duties to check on his mom and dad and gave us the strength we needed to carry on.
I even saw the love of God in the young grocery store clerk when she told me, "This may seem a little weird, but since you don't have hot water at your house you are welcome to come use my shower if you need to."
God's love, mercy, grace, compassion, and strength was and continues to be right there in the midst of the aftermath. He is loving the hurting through PEOPLE. I am thankful that God chooses to dwell in human flesh and reaches out to heal and infuse hope to those in need. I am thankful to people who choose to obey God when He tells them to go and bear another's burden.
Thanksgiving has always been a season where people gather together to enjoy food and the sheer pleasure of being in the presence of family and friends. In the Panhandle of Florida it will be different this year. For some, it will be gathering with strangers at Lake Alice Park for a hot meal.
Yes, this is Thanksgiving season and devastation is still all around, but so is the presence of God.
And for that, I give thanks.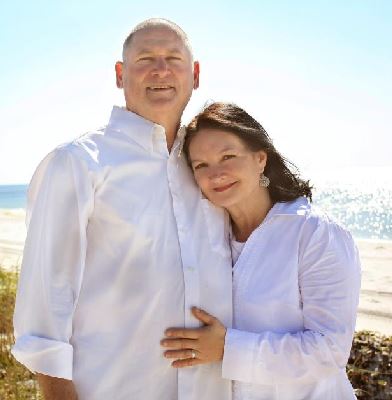 Libby Bozeman is a mother of 3, grandmother (GiGi) of 14 and has been Greg's wife for 41 years. Libby and Greg minister to Wounded Warriors and their wives as support staff for the Wounded Warrior Beach Retreat. One of Libby's greatest passions is creatively sharing God's blessings with others. Libby and Greg reside in Wewahitchka, FL.