Is she black?!
Black people lie!
If your friends come back to this church, we will have them escorted out.
I must say that in the nine years of our marriage, we have been blessed to not have to endure constant negative comments, racism and weird stares. You see, I am black woman who happens to be married to a white man. In 2001, the Lord allowed my husband, Ryan, to move from northern Ohio to my hometown in Mississippi to start his career in education. As Ryan became established, purchasing a home and settling into a church body, we began to see very much of each other as he helped serve in the church as well as attending the same college and career church ministry. My husband began to take interest in me, but I was not interested. Not particularly because of skin color, but I was pursuing a nursing degree and I felt that I did not have the time or space for any dating relationship.
Now if you would have asked me at that time if I would marry outside of my race I would probably say no. It was only because my world had always been primarily black until I went to college. In my town, for the most part, it just still seems segregated. Growing up in my town, the schools were segregated because the white families chose to place their children in the private school there or went out of the county, and the churches are mostly segregated. I have also seen white flight take place. And it is not typical to see interracial couples there. Therefore, the man of my dreams would resemble my father, black and tall. However, God began to change how I saw the world. He blessed me with wonderful friends of different ethnicities in college and he placed a sweet, persevering, Christian man, (who happens to be white) to pursue me for 5 years.
Ryan and I married in 2009 and almost two months later we moved to Kentucky to start a life as an interracial married couple. To be clear, our move was not because of any hardships we faced due to being a mixed couple, rather it was for me to complete my studies at seminary. Today we still live in the same area with our two beautiful daughters. God has been so kind to place us in an area where we are thriving and growing as a couple.
When we began dating, my husband told his aunt and uncle in Mississippi that he had started dating someone. They wanted to know who she was. Immediately when he said my name his aunt replied, "Is she black?! My husband responded, "Yes she happens to be black." She proceeded to say, "Black people lie!" When Ryan told me her response I felt angry and fearful. I did not like that she passed judgment on black people based on her encounter with a black gentlemen that worked for her. My worldview is that all people are sinners, with weaknesses, flaws and failures. To this day, I still feel uneasy around them because I think that they have these preconceived beliefs and judgments about all black people. They don't seem to want to get to know who I am as a person.
Recently, we visited friends in a small town in Kentucky. Our friends were told that if we came back to their church we would be escorted out. Again, I felt angry and fearful. It makes me shudder to think that I was among people who claim to know Jesus yet hate me because of my skin color. I confess that it is easier for me to fall into the temptation of feeling insecure when I hear negativity. I confess that I can let others rejection of me and what others think of me become more important than what God thinks of me. So I am reminded to put my trust in my Master Creator. He loves me with an everlasting love, He accepts me and He cares for me deeply (Jeremiah 31:3-4, Psalm 139:13-15, Romans 35,38-39). I can be confident that I have been created in Christ Jesus for good works (Ephesians 2:10). I have value and worth!
I don't go throughout the day thinking about the race of my husband. I am not claiming that I don't see color, but I have the opportunity of enjoying my husband as a person, a man of God who is adventurous, takes risks, and has a big generous heart. I know that this is obvious, but as a people we are created by God, we all have souls, personalities, emotions, sins, sorrows, trials, joys, likes and dislikes. These things are all commonalities that transcend race. However, people who hold the belief that their race is superior cannot acknowledge this truth. Sometimes we can minimize or overlook someone because of biases, opinions, stereotypes and prejudices.
It has not been any more difficult being married to someone of a different race than a typical marriage. Marriage takes work, period. Yes it may take more communication to understand cultural differences and work through stereotypes and generalizations that we have entered into the marriage with but it is worth it if you love someone.
I think that being in an interracial marriage is a beautiful picture and display of God's care, diversity, unity, beauty and reconciliation. There is no difference in God's kingdom. His word tells us in Acts 17:26a "from one man [God] made all the nations, that they should inhabit the whole earth…" and one day there will be a great multitude standing before God's throne, every nation, tribe, people and language will be present (Revelation 7:9). John Piper puts it this way, "The freedom and the beauty and peace of interracial marriage is one ray of the glory of Christ that should be shining from this new humanity — this "chosen race" (1 Peter 2:9) — which Jesus Christ died and rose again to create. Our aim as an interracial family is to know God, love God, love people and make God known.
Think on these things:
• What do think about interracial marriages?
• What are your beliefs about others and God?
• What hinders you from getting to know someone that looks different from you?
The reality is when we hold these biases and prejudices in our hearts it does not communicate the gospel to the dying world around us, and it hinders us from fostering personal and intimate relationships with others. Our beliefs can block us from ministry opportunities to unbelievers and believers that look different from you.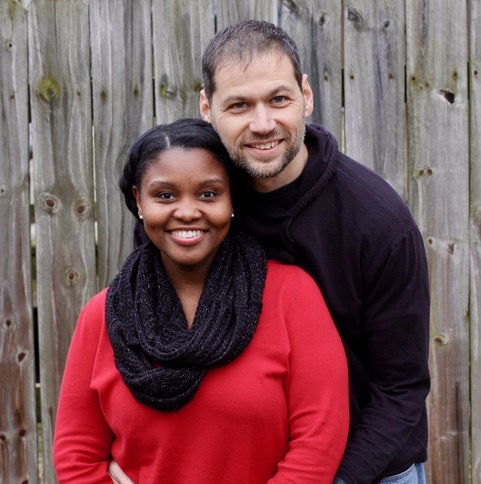 Terra lives in Kentucky with her husband and two children. She enjoys listening to podcasts, homeschooling her children, and going out on dates with her husband. Her husband thinks that one day she will have her own vlog so stay tuned.